French Fingerling: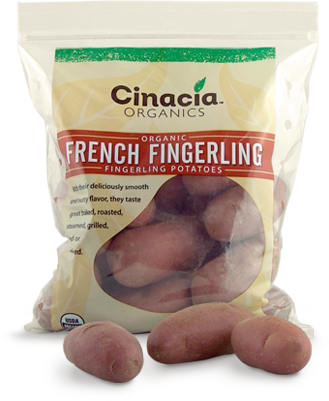 This short, stubby potato came over to the States from France. It has pinkish-red skin, smooth, moist yellow flesh with streaks of pink. In short, it's a beauty. It packs a deliciously smooth, nutty flavor. This variety is great baked and served warm or roasted, steamed, grilled, fried and sautéed. The creamy flesh and nutty flavor make them a welcome addition to any table at home or fine restaurant.
Russian Banana: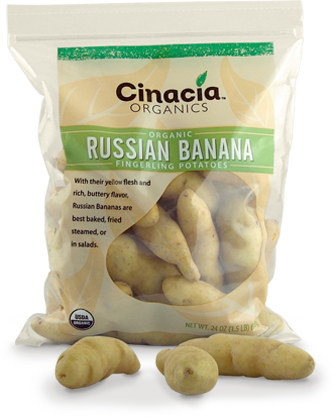 You guessed it. This potato hails from the Russian and Baltic States. It is yellow, through and through with a rich, buttery flavor. This is the potato you're most likely to find at fine restaurants. Best baked, steamed, fried or in salads.
Austrian Crescent: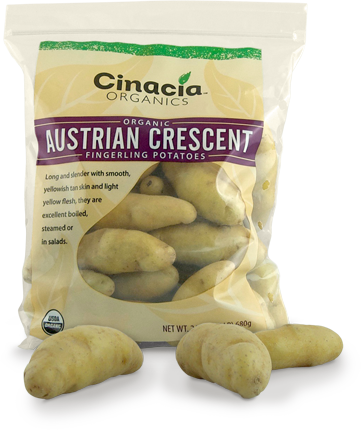 This variety is a decent of central Europe and is simply beautiful with its smooth, yellowish tan skin and light yellow flesh. Long, slender tubers that typically reach three to four inches define this potato. Excellent boiled, steamed or in salads.
Crimson Goldfinger: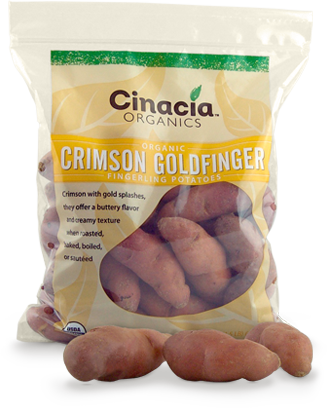 Crimson-red with gold splashes around the "eyes", this finger-like potato makes a great addition to any plate. The slender, sometimes knobby fingerling yields a purely yellow flesh. The incredibly creamy texture, buttery flavor, and sweet finish make this variety a favorite for all ages. With their great taste, it's best to keep it simple. They are excellent roasted, grilled, baked, boiled or sautéed.
Buttercream: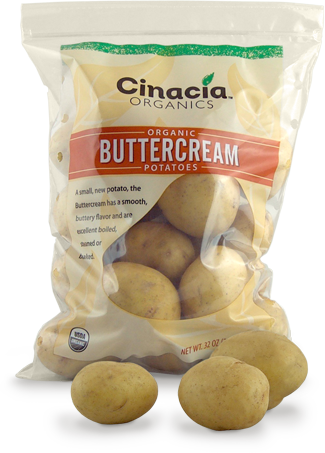 A small, new potato, the Buttercream is fluffy with golden skin, yellow flesh and a smooth, buttery flavor. At around 1 to 2 inches in diameter, these tasty little potatoes are excellent boiled, steamed or baked. Not the best candidate for salads, as the texture is soft and tends to disintegrate.
Chef's Blend: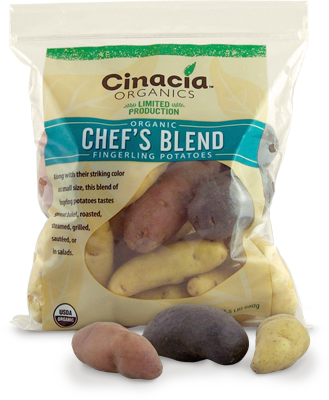 This limited edition fingerling blend not only adds striking color to any dish but a taste that can't be beat. Delicious combinations of earthy, nutty, and buttery flavors make this blend a crowd pleaser. The Chef's Blend tastes great baked, roasted, steamed, grilled, sautéed, or in salads.